A little belated,but here it is: all the questions you've been having about the 2008 NBA Draft answered, plus some extra analysis on the draft of our hometown Mavs.
SHAN FOSTER, you might also know him as Usher.
Hopefully the Man of the Future in Dallas. A lights out shooter (47% from beyond the arc his senior season) who can hopefully fill the need of just that...shooting. The achilies heel of the Mavs of late has been shooting, and the organization did exactly the right thing in trying to fill the void.
-2nd Team All America 2008
-2008 SEC Player of the year.
The Mavs had been rumored to be looking to trade up, but ended up holding on to the pick. Good move, Donnie and Co. They believe Foster has the chance to be a second round gem, and with good reason. Now we gain a solid shooter without giving up any assets--we at DD call that a good draft.
Check out some clips of "Suga Shan", as they call him at Vandy:
42 point game. Notice the shooting range that Jay Bilas said he didn't have.
Great Interview. I Like this guy already.
And finally, THE song of the year.
Also, I did a little research on Stuart Scott...and his eye. Everyone likes to poke (no pun) fun at it and talk about how weird he looks, so I went on a quest to find out exactly what happened.
In 2002, Stu was doing a story at the New York Jets mini camp, when an atuomatic
passing machine shot off a ball that inadvertently hammered him in the eye. He immediately underwent cornea surgery, and though it looks very, very, very fake, apparently he can see (barely) out of it again.
A Few Awards from Draft Night:
Best Player in 5 years
: Michael Beasely. Not that Derrick Rose will be a bust--he won't--but this could be a pick reminiscent of Sam Bowie over Michael Jordan or the entire draft over Randy Moss.
Biggest Steal:
Darrell Arthur. The South Oak Cliff product fell to 27 because of his kidney "issue". In his interview with Steven A. Smith after being picked he depressingly told us that his "kidney has re-tested a few days ago and the results were fine. I guess they [the doctors] never told the people they were supposed to tell [NBA teams.]" Interesting, and very sad. How pissed you would be? Imagine you fall from a late lottery/early teen pick because your doctor did NOT tell the NBA your kidney was in fact fine. Now that's negligence.
Man Who Needs To Do Something Besides Watch Basketball:
Jay Bilas. He's a freak, to put it simple. It's great for us at home, because he knows everything about every player who once thought about declaring for the draft. But for him...I could imagine this getting in the way of his personal life. Not that "hey, want to see my scouting report on Kosta Koufos?" isn't a great pickup line.
Interestingly enough, Bilas was drafted by the Mavericks in 1986. Should've kept him as a talent scout. Then there would have been no Wang Zhi-Zhi, Samaki Walker, Etan Thomas...
How Does He Still Have A Job?:
Steven A. Smith. His gimmick was OK at first, and is now old and annoying to most.
Best Name:
Ovinton J'Anthony Mayo. Commonly referred to as O.J Mayo. I don't think I have to explain this one.
Most Awkward Moment:
Not only was it bad for Danilo Gallinari when the Knicks took him sixth overall, but interview extraordinaire Steven A. Smith clearly forget who he asking his questions. Amidst all the boos from Knicks fans, Mr. Smith managed to ask this kid--foreign kid, who barely knows english--how he'll be able to "put the ball in the hole" and if he can "handle the rock." Really? Throw away the hip hop slang for a minute and give the poor kid a chance to understand what in the world you're asking. Coincidently enough, Galliniari was seen on the phone later that night and was heard asking his dad "if he's really going to have to carry rocks as a conditioning drill." Great work, Steven A.
No Way Did He Say That:
Brook Lopez. After watching his "wired" clip in the green room, I'm concerned. Here he is, on the most important night of his life, with his head down in boredom, saying "this is sooo boring!" Man, I'm sorry to hear that, Brook. I wish you could have given me your freak 7 foot body so I could be there in the green room, minutes away from millions of dollars. Something tells me I wouldn't be so bored...
Get A Haircut:
Robin Lopez. If he was unsure whether to put the razor to the head or not before the draft, he
must
have been somewhat swayed when he attempted to put his Suns hat on, having to instead settle for laying it on his mop.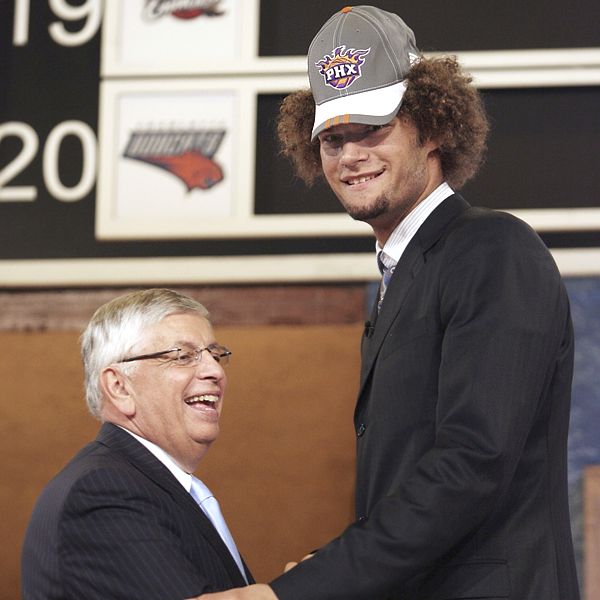 I Wonder If My Dad Is Actually Proud?:
Patrick Ewing, Jr. What does it take to impress one of the best centers of all time? I'm not so sure a second round draft choice and a possible career in Europe gets it done.
A FEW THOUGHTS:
--Why does a first team All-American (Chris Douglas-Roberts) fall to 40th overall, while 20 year olds who average 5 points per game in France, like Alexis Ajinca, get selected 20th overall? Am I the only one who doesn't understand how this works?
--Why do teams place SO much emphasis on pre-draft workouts? It seems to me that a few workouts would pale in comparison to a few seasons of college basketball. A workout is just that--a workout. Players are drafted because they play well in games, not because they 'work out well.' Or that's how it used to be..
--In fact, let's look at some stats:
Brandon Roy, rookie of the year two seasons ago, has career averages of 18 ppg and 5 apg, leading his draft class in both categories. Roy also played four years of college basketball. Ready to come into the league and produce.
--I think history is starting to prove that Foreign players are a needle in a haystack. For every Dirk there are 50 Darkos. Here's an interesting stat:
Excluding last season's draft class (Overseas players need time to develop, remember?)
-2006 Draft Class, First Round:
5 Foreigners drafted
Altogether, career averages are 4.92 ppg, 1.02 apg, 2.24 rpg and .3994 FG%. This includes #1 overall Andrea Bargnani.
Too soon to judge, you say?
-2005 Draft Class, First Round:
4 Foreigners drafted, 1 of which (Fran Vasquez) has yet to play in the L yet.
Career averages are as follows: 3.47 ppg, .33 apg and 1.93 rpg.
BEST PLAYER: Johan Petro
-2004 Draft Class, First Round:
6 Drafted
Averages: 4.68 ppg, 1.0 apg, 2.95 rpg.
BEST PLAYER: Andris Biendris
Not quite the production to continue drafting these players so high. Keep it local, draft a proven player who will give you solid results. Maybe it's too complicated.
--How are Jeff and Steve Van Gundy related? That's a serious question.
--Chris Douglas-Roberts, Bill Walker, Shan Foster, and Mario Chalmers are all second rounders who WILL be good in the NBA.
--What was DeAndre Jordan thinking? Who was telling him to go to the NBA? I know it wasn't A&M coach Mark Turgeon. Jordan lost his starting spot during his freshman season to Bryan Davis. If you can't start on your college team and you aren't Marvin Williams, stay in school.
--Weird, the spurs drafted a guy from America.
Free Agency has begun, we'll see what the Mavs are up to. In other news, the Rangers won again are now 3 games over .500. More on that tomorrow from the other half of DallasDedicated.
--PD