Excuse me as I let a little steam off. I've sat around and watched the Mavs make panicked premature dumb moves for half a year now, and frankly, I'm tired of this. Let's go back and look at the last couple of moves made by the Mavericks organization:
February 19: Mavs recieve Jason Kidd, Malik Allen, and Antoine Wright for Devin Harris, DeSagana Diop, Trenton Hassell, Maurice Ager, Keith Van Horn and first-round draft picks in 2008 and 2010
We could all argue back and forth about this trade for a year and everybody would still disagree. We here at DallasDedicated STILL do not agree whether this trade was the right move or not. What we are sure of is
this
...the trade seemed very premature and panicked. First of all, is it the smartest thing to trade your starting point guard for another starting point guard at the midway point of the season? The point guard position is the most important position in basketball, and making a trade that involves the starting point position will dramatically change one's chemistry.
Secondly, the real underlying issue with the Devin/Kidd trade was
this
...head coach Avery Johnson and Devin Harris just simply did not work together. The General used the pre-season, as well as the first week of the regular season, to let Devin call all the offensive plays and set up the offense. After a couple of regular season games, the control freak known as Avery Johnson went back to making every and all offensive play decisions. Devin Harris is/was a great point guard, the only point guard this franchise has ever had to take us to the NBA Finals. However, Devin Harris could not ever fully develop into what is needed from a playoff point guard because AJ would not let him. So what do the Mavs do to fix this problem? They trade away Devin for a hall of fame point guard. Only one problem: that same control freak of a coach is still running things. Jason Kidd is known for his quick thinking on the fast break. Unfortunately, Avery Johnson decides he would rather "re-tool" the future hall of famer. Instead of running plays that emphasize Kidd's strenghts, most of the offensive plays are isolation plays, making Jason Kidd just another average guard.
We all know what happened after that: The Mavericks regular season ends on a decline, the team doesn't seem to have the chemistry that is needed, Kidd's numbers significantly drop (especially in the scoring department), and the Mavs lose in the first round AGAIN. Mavs GM Donnie Nelson and owner Mark Cuban know that someone needs to be held accountable, so the next move is made...
April 30: Avery Johnson is fired
Honestly, I thought this move had to happen. The players no longer listened to Johnson, plays continually were broken immediately as they were called, and Johnson refused to admit when he made any mistakes. While the firing was very much called for, doesn't it seem too little too late at that point? Devin Harris couldn't develop with Avery Johnson at the helm, so why didn't Cuban/Donnie just wait until the end of the season before making a blockbuster trade? Firing Avery most likely solves the "Devin isn't developing quick enough" problem. Instead, they pulled the trigger on the blockbuster Kidd trade, making this Maverick team older, less deep, no first round pick in last month's and 2010's draft, and less money to spend. This window of "elite team" status is closing for our basketball team, and all we have to show for it is playoff after playoff heartbreak. Now on to the next move...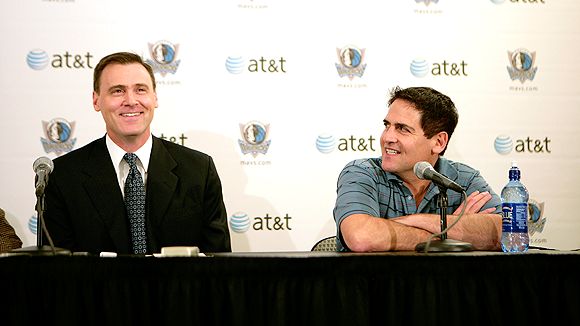 May 10: Rick Carlisle named head coach
While we here at DallasDedicated predict that Rick is a perfect fit with this team, nobody can be quite sure yet. However, we will say this: Carlisle has bonded with Dirk in Germany, had multiple private dinners and conversations with Josh Howard, and has spent a lot of extra time working out with new Mavs Diop and Green. Most importantly, all current and former players have nothing negative to say about this guy. After watching the first few games of summer league basketball, we are beginning to see how different the offense will look like under Carlisle. A lot of motion without the ball, a lot of fast breaking, and a lot of spot up shooting. These are all sure signs that "Rick was a great pick!" (t-shirt sold seperately)
July 4-12: Mavs re-sign JJ Barea and Antoine Wright; sign DeSagana Diop, James Singleton, and Keith McLeod
As this off-season began, a lot of questions arose about who would make up this team's bench. Over half of the bench was a free agent and it was hard to tell who would get re-signed over the other. Also, the free agency market contained a lot of big names and role players that would fit quite nicely into the Mavericks rotation. The first free agent signed was Gerald Green, the young 6-8 swingman who has been granted a second, er a fourth, chance in the NBA here in North Texas. Gerald Green is explosive, athletic, and isn't afraid to get to the basket (and blow out a candle on a cupcake once he gets there). All these things the Mavs need, and we got it for the league minimum of a contract.
The hardest thing to let go out of the Jason Kidd trade last season was losing the backup force known as DeSagana Diop. When the Mavs got him to boomerang back to Dallas on July 10 (as well as re-signing Barea), it definitely lessened the blow of the downfall of the Kidd trade. Now this Maverick team has a legitimate backup center, something that we didn't have in the short lived playoff run last season (see Jamaal Magloire). Having Diop back definitely improves the bench of this Dallas team.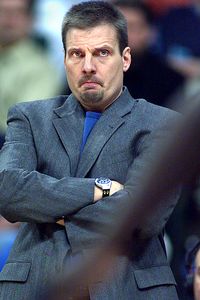 On July 12, after re-signing Texas A&M alum Antoine Wright, the Mavs organization decided to once again make a premature move. 6-8 forward James Singleton and point guard Keith McLeod, both on the Mavs summer league roster, were signed to contracts. Let me add: this was all without playing in a single summer league game. The NBA summer league is all about watching and scouting players that could possibly make it onto one's permanent roster, so why would GM Donnie Nelson decide to sign two players before summer league even gets underway? Now there is only one roster spot left, not to mention that Singleton and McLeod are not even playing the best on the summer squad. Charles Rhodes, the 6-8 rookie from Mississippi State, has outplayed Singleton in very outing. While Singleton is coming off major knee surgery, Rhodes has been impressive and has outhustled opponents on both ends of the floor. Also, the 51st pick in the draft, Vanderbilt alum Shan Foster, has made a name for himself as of late with his lights out shooting. Yet, both, maybe even neither, can make it onto the permanent roster because the Mavs staff once again made a premature decision.
But nothing made me more angry than the happening of this week....
July 16: Multiple sources (Sacramento Bee, Hoopsworld) report and confirm that Mavs offer Brandon Bass and Jerry Stackhouse to the Kings for Ron Artest
I refused to believe this to be true and had to do some snooping around to make sure that these sources are correct. Sadly, they are. What on earth are the Maverick heads thinking offering this deal? Jerry Stackhouse for Ron Artest straight up is a head-scratcher but arguable, but throwing in the young Brandon Bass with nothing but upside ahead of him is just idiotic! Brandon Bass has improved dramatically in just the one season he has worn a Mavs uniform. He out-hustles anyone and everyone, he is by far the strongest player on the roster, and he is ever-improving. GM Donnie Nelson has sent scouts all over the world to find young, raw talent and we finally get one in Bass and he attempts to trade him for a nutcase. Who would you rather have, a young player that is nicknamed "The Animal", or a player that would rather rap than play basketball and started the biggest brawl any sport has ever seen? We can all thank God that Sacramento did not accept this deal (how dumb are they?). Sacramento countered this trade with a proposition of their own: Josh Howard for Ron Artest straight up. The Dallas Morning News
reported
this morning that the Mavs refuse to part ways with Josh Howard. At least they made the right decision there! I only pray that the Mavs don't continue this habit of over-thinking and premature decision making.
Donnie Nelson and Mark Cuban have always had my confidence. Yet lately, I am starting to question exactly what these two guys are thinking. Josh Howard was questioned by the organization for admiting to marijuana use, yet the only question I have for the Mavs is what are Mark and Donnie smoking on?
--ND