The Rangers pulled out a 1-0 victory against the surging Minnesota Twins tonight, avoiding the series sweep. The Rangers-typical post all-star break collapse appeared imminent, but a great performance from ace Vincent Padilla put those claims on hold for the time being. Still, though, questions remain about the offensive production. In the three game series, the squad scored only 3 runs, compared to the 20 put up by the Twins. Essentially, if Padilla hadn't been on the mound, I suspect we would have another "L" in the loss column. Run support is what has given this team a fighting chance for a playoff birth. Without it...well, just think back to the previous 7 seasons.
Now, we've all been told that this is still a team in the 'building' phase, so making the playoffs would just be an added bonus (that is quickly slipping away). However, a close fight for a birth in post-season play would help the Rangers in more ways than just being a good team. Despite the relative "success" this season, attendance is down almost 5,000 a game from last year, and is the lowest since 1988. Nothing would be better, then, for this team than a race to the playoffs. Dallas has become a die hard Mavericks city after its playoff performances, and the Rangers may need such success, as well.
MINOR LEAGUE REPORT
As an often neglected area of baseball, we here at Dallas Dedicated feel like the farm system needs some coverage--after all, they are the budding stars of this franchise...as well as frequently mentioned as "prospects to be named" in trades. Yet no one ever knows who they are. So, according to some elementary logic, we feel that it would be to everyone's benefit to give a rundown of the
Next in Line:
Elvis Andrus
: AA Frisco Roughriders
Only 19, and is batting .293. Not a power hitter (only 1 HR), but does a good job of getting on base, which is great as he leads the team in stolen bases. Plus, his name is Elvis.
Tommy Hunter
: AAA Oklahoma RedHawks
At 21, has just moved up from AA, after performing well there. He is now 1-1 with a 2.01 ERA at the next level.
Blake Beavan
: A Clinton LumberKings
The 19 year old future of Rangers baseball is performing nicely in the first season. At 6-6 with a 2.57 ERA, Beavan looks poised for great things. He has struck out 42 batters and walked only 12. You'll be hearing much more from this Irving product in the near future.
Up Next: The Chicago White Sox. Hopefully the Rangers can steal the series and Hamilton and Co. can get back on track.
OTHER DALLAS NEWS: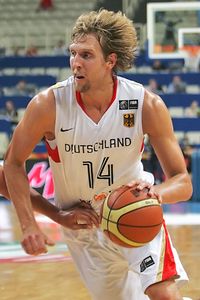 --Dirk and Germany
made the Olympics
for the first time in their country's history. Big ups to Dirk for essentially
being
the team.
--Charles Rhodes continues to impress us at Dallas Dedicated, and would even go so far as to say he might be desired over James Singleton. Too bad Singleton's contract was rushed....
and
guaranteed.
--How can ESPN do
Power Rankings
during the offseason? Rankings such as these don't take into account ANY player improvement over the break and training camp. Basically, the rankings should be termed "Based on last year, with transactions". They completely miss the entire concept of improving players...the job of a coaching staff.
--FC Dallas remains winless under new coach Schellas Hyndman. They drew 2-2 with the Colorado Rapids on Saturday. However, there is a bright spot: for the first time since May 28th they scored multiple goals.
--Midfielder Juan Toja may be on his way out. Europeans clubs are calling, and the rumor is he may be going to play for an unpronounceable team in Romania. Lucky for him, mullets are in style there.
--PD