Ok, let's forget about the 7th inning of last night's game. Before that dreaded 9-run inning that the Yanks put together against the Ranger's weak bullpen, this Texas team was on a roll. The Rangers sit at 44-42, which may not get a Tampa Bay Ray-type reaction on ESPN, but people here in North Texas are starting to get excited. Are we all getting a little ahead of ourselves though? It's not even the all-star break, yet FSN announcer Josh Lewin is having a slight stroke screaming "The Rangers beat the Yankees! This isn't your typical Texas Rangers team!" That is true, this team has some things that not many people have witnessed before in Arlington. But is this team bound to leapfrog over the A's and Angels and win a, dare I say, AL West pennant? Or...is this just a mediocre baseball team that has a slight winning record? Let's look at the positives and negatives of this
Extreme Makeover: Texas Rangers Edition
.
Let's start with the good news...the shining light of this baseball team.
THE OFFENSE
Guess what? The Texas Rangers, YOUR Texas Rangers, are first in the entire major league in runs scored, hits, doubles, runs batted in, and 3rd in batting average. While usually Ranger fans think of themselves as lucky to see just one Ranger in the all-star game, at least 4 deserve to be lacing up their cleats at Yankee Stadium on July 15.
It's one of the best offenses I've ever seen," first baseman Frank Catalanotto said. "It's kind of scary. We never give up regardless of the score. Everybody puts together good at-bats and everybody knows we're not going to go down 1-2-3 in an inning very easily. We feel even if we get down in a game, we can still come back and put runs on the board."
The man getting a lot of national media attention for his amazing comeback from drugs and alcohol is Josh Hamilton. Hamilton leads the entire league in RBIs with 82, and is 2nd in homers among American Leaguers with 19. Josh is not only a lock for the all-star game, but he will be among the favorites in the home-run derby. When Hamilton was seeking treatment from drugs, suicide, and alcohol, he dreamed of this very thing. "I had a dream just before I got back into baseball, probably three months before I was reinstated, that I was in a home run derby, and it happened to be in Yankee Stadium," he told reporters yesterday. "I didn't see myself hit or anything, but a lady stuck a microphone in my face and I got to tell everyone why I was there."
The story of Josh is even more incredible than his play this season. Many people inside baseball claim that the best player in baseball could be playing right field for the Rangers.
"It doesn't surprise me that we're scoring a lot of runs but having [four] guys lead the league in runs scored is hard to believe," Kinsler said. "It is pretty amazing." One of those four guys is Ian, who also has a .323 batting average, second in the AL. Kinsler also leads the league in runs with 74. While he is one of the youngest on the team, he has shown a tremendous amount of leadership. People around the league are beginning to take notice. Kinsler is now 2nd among second basemen in all-star votes.
2 nights ago told the entire story. Kinsler got a double off Mariono Riviera in the 9th inning and then stole third. The infield was forced to move in and Michael Young hit a chopper over the infield to bring in Ian, who was the winning run. It's hard to believe that during spring training Ron Washington wasn't sure if Ian was even right for the leadoff role. It's been a perfect fit since.
It isn't hard to envision Josh Hamilton winning the American League MVP award, David Murphy taking Rookie of the Year and Milton Bradley capturing the Comeback Player of the Year award. All have been a huge part of the team's success, as well as the captain of this organization, Michael Young.
One other positive item this offense contains is Vicente Padilla's pitching this season. He is already at 10 wins, something he never got to last season, with an ERA right at 4.
Newcomer Chris Davis has been a huge surprise also. The 22 year old East Texas native has played in only 7 games thus far but has 3 homers and 7 runs batted in behind a .316 batting average.
But a team just slightly above .500 has it's share of flaws and most of Texas' deficiencies can be found 60 feet, 6 inches from home plate.
THE PITCHING
Speaking strictly starting pitching, The Rangers' taking Dallas native Jason Jennings and throwing him out on the plate failed miserably, and Brandon McCarthy has been injured since the middle of spring training. What is even more frustrating about the pitching is that the organization let's the good ones go. Armando Galarraga, designated for assignment by Texas in January, is 7-2 with a 3.40 ERA for Detroit. Sydney Ponson has been a favorite in the New York Yankee's rotation, yet just 2 months ago he was a Ranger who was labeled "a team distraction." When Texas traded for Josh Hamilton, they were willing to say goodbye to Edinson Volquez, who is now 10-3 with a 2.24 ERA with the Reds.
While the starters have been struggling, the bullpen has been dreadful. Closer C.J. Wilson seems to have found his form, but the rest of the bullpen needs serious help. Seven times the Rangers have had a chance for a three-game sweep this season and, after last night's debacle, they're 0-7. This has all been the direct result of poor bullpen pitching.
With the Rangers hanging on to a one-run lead in the 7th, and the game too early to bring in Wilson, manager Ron Washington was forced to call on rookie Warner Madrigal. I'll leave the details in the past, let me just say this: Madrigal is heading back to Frisco with an ERA of 62.00.
The Rangers must solve the never-ending problem...pitching. It didn't matter much before because, quite frankly, the Rangers sucked. Now, people are believing, the Rangers are scoring runs, but the pitching can't keep the opposing runs down. It's costing the Rangers dearly.
The Rangers have the individual talent to make this season something quite special. All I am saying is this....let's not have Laura Miller planning any pennant parades until at least mid-September.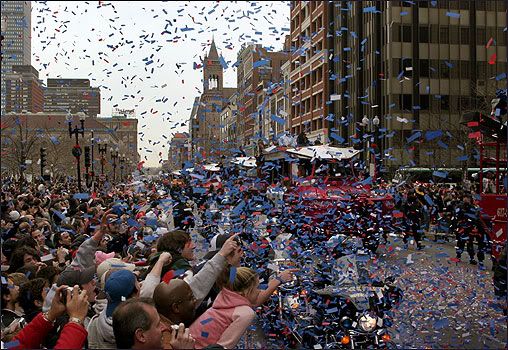 --ND