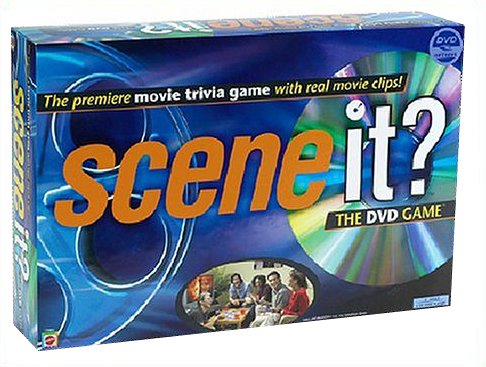 This will be the first and last time you will ever read this on DallasDedicated: The Mavs have played 3 games so far and we have not seen any of them.
This is because the first 3 preseason games have not been televised. It's strange to me that I was able to watch almost every Maverick Summer League game, yet these games have all just been carried on the radio waves. We here at DallasDedicated are going to give you our thoughts on the early preseason (which were all blowout wins) as we play Scene It: Mavericks Preseason Edition...without ever
actually
seeing it.
~In the first 2 games against Washington and Chicago, it looked as if Antoine Wright earned the starting shooting guard spot. He was given a "tryout" by Rick Carlisle and played better than any of us ever knew he could. He not only shot at a high percentage and ran to the wings of the fast break well, but also played the better defense than anyone on the perimeter. Tonight against Milwaukee, Stackhouse was given the nod. Antoine Wright was given 0 minutes of playing time in the first half and then just 2 minutes in the 3rd. 5 more minutes of scrub time were given to Wright to close the game out with the Mavs up by a load. Does this mean that Carlisle didn't like what he saw, or was this simply just Carlisle experimenting with a different player at the 2? I'm intrigued to see how Wright is used Wednesday in Indiana.
~Speaking of Indiana, the Mavs traded Eddie Jones to the Pacers earlier today for 21 year old Shawne Williams. Williams is a 6-9 forward who averaged 7 points per game and nearly 3 rebounds. Indiana was willing to give him up because of his past character issues (a suspected murderer was pulled over in Williams' car. The car was searched and a gun and drugs were found). However, we here at DallasDedicated like this trade. Eddie Jones was going to be a bench warmer this entire season, and trading an old veteran for a young guy with potential is always a good move. One ESPN scout believes that Shawne Williams could be Mike-Miller like and score 20 points per game if he can keep his nose and distracted mind clean. Arriving into a good locker room atmosphere should help Williams.
~Jason Kidd was given the night off tonight, as JJ Barea was given the starting nod.
As Barea played a little sub-par, (only 4 assists and 3 points in 22 minutes) Keith McLeod is still on the injured list and could not play. This would have been a great chance for Rick Carlisle to see how McLeod handles the point guard role. I still have yet to understand why McLeod was given an early spot on this roster, and I wonder if I will ever be enlightened on this issue.
~Cheyne Gadson was invited to training camp, and no one really knows why. His nba.com
profile
is blank, and his game seems to reflect this. Can we just send him back to where he came from and put Charles Rhodes in the game?
SIDE NOTE: If someone you know has a drinking problem, tell them that you would like to play a drinking game. Everyone takes a drink each time you find information about Cheyne Gadson.
~Charles Rhodes, DallasDedicated's favorite training camp invitee, was once again not given a legitimate shot. He only played in the closing 5 minutes and was unable to even get a shot off. With the roster already at capacity, I'm afraid it may be time to let Rhodes pursue a one-year international deal.
~The best players of preseason? Besides Wright showing us his stuff, Bass has been nothing but explosive. He is everywhere on the court and is playing great post defense. He worked on an up-and-under move with his back to the basket this offseason, and he has used it to perfection thus far.
~Jason Terry has shot outstanding off the bench, something that we can all pray bleeds into the season. The Jet has gotten spotted up on the fast break for Jason Kidd and Barea, and his perimeter shooting has never been more on target. Tonight he even hit a buzzer beater from half court to end the half. As Terry celebrated with his infamous jet impression, the crowd booed out of frustration. The Jet responded by cupping his ear to the crowd, begging for more. Priceless.
~Josh Howard has not only turned his attitude around, but his step-back jumper has also left. Something that had Mavs fans cursing all post-All Star break was the ugly jumper, as we all know that Josh Howard is best when he is slashing to the basket. This preseason he has done just that, and the results have been terrific. Most importantly, Josh Howard was singing with his head down during the national anthem. 'Atta boy J-Ho!
Everything in preseason has gone relatively well thus far. All 3 games have been blowout wins, and the fastbreak has worked to perfection. Carlisle has remained seated throughout each game, letting Kidd take over the offense. Next Wednesday Dallas will travel to Indiana for Volume 4 of Mavs Preseason, and this time it will be televised. We here at DallasDedicated cannot wait for the Mark Followill/Bob Ortegal reunion tour to begin!
Coming tomorrow: I ran a running diary of the Stars home opener, which was a wild one. Analysis and the key to my diary tomorrow!
--ND