The Dallas Stars had a magnificent run last season. NHL critics had written off Dallas to do anything if they even made the postseason. The Stars responded to the negativity by showing guts and heart as they rolled their way to the Western Conference Finals, before losing to the over-matched eventual NHL Champion Detroit Red Wings.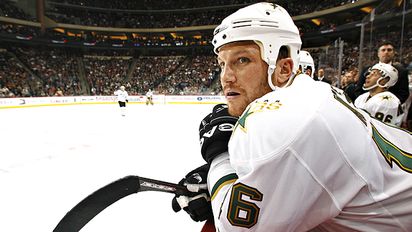 This season has been almost the exact opposite of the previous one. Critics had this team in a fight for first in the Pacific division and as a Stanley Cup contender. Head coach Dave Tippett was granted a contract extension, youth was added to the lineup on the back and front ice, and the enforcer pest known as Sean Avery was brought in to solidify the identity of the hockey team once and for all.
Let's fast forward to the now: The Stars are 24 games into this season, and they sit in a three-way tie for last in the Western Conference. The goaltending, something that the Stars have taken pride in year after year with Marty Turco behind them, hasn't been even close to previous seasons. The defense has been lackluster, and the powerplay has been even more dreadful. To make things worse, the heart and soul of the Stars, Brenden Morrow, is down and out for the rest of the season with a torn ACL. That's not all though, as the most recent catastrophe has just been confirmed. Sean Avery, the biggest move of the NHL offseason, has just been suspended indefinitely by the NHL for his comments this week.
How have things gotten to this point? Let's first examine the goaltending, which has been anything but excellent this season. Marty Turco has been extraordinary for the Stars since his first start back in 2002. Turco has an NHL career goal-against average of just 2.15. This season has been a completely different story, where Turco's GAA currently sits at 3.48 with a save percentage of just .874% and 0 shutouts. Benching Turco to get his head right is not the answer either, where the backup Tobias Stephen is an unproven young goaltender who has not gained his trust with the coaching staff yet. Turco must get better, and the defensemen must relieve some of the pressure.
Brenden Morrow is the unanimous leader and voice of the Stars. His sole presence on the ice helps instill confidence throughout the team. With the only hope the Stars have of having their main man on the ice with them is during a postseason run, most NHL fans have written this team off. And that was before the Sean Avery incident.
Sean Avery is a hockey player like no other. During the season he gets in countless of fights on the ice and scores many goals. Yet, in the offseason he dates gorgeous supermodels and actresses while interning for
Vogue
Magazine. Avery is the most hated player in the NHL, yet the most wanted on their team. Avery may be a pest and run his mouth a little too much sometimes, but he takes care of business on the ice. Think of him as the hockey-version of Terrell Owens. I have never understood why so many people are so quick to disregards his talents and demand he change his attitude.
ESPN ran a graphic this morning on Sportscenter that was entitled "Sean Avery Timeline: Last 4 Years", yet there were no hockey stats or hard checking highlights. In fact, the timeline just had 3 facts on it.
2008: Called Martin Brodeur a "fatso" after being snubbed in handshake line
2006: called Ducks broadcaster Bryan Hayward an "embarrassment" and "terrible announcer"
2005: fined for criticizing Colin Campbell, NHL Director of Operations
ARE YOU KIDDING ME?! We are really going to hate on a guy because he called another player a "fatso"? This isn't Little League, this is the National Hockey League. These are grown men playing a sport professionally. People are acting as if Sean Avery took his skate off and attacked Brodeur with it. Sean Avery's latest comments came Tuesday night, and this time it cost him.
"I'm really happy to be back in Calgary; I love Canada," the Ontario native said. "I just want to comment on how it's become like a common thing in the NHL for guys to fall in love with my sloppy seconds. I don't know what that's about, but enjoy the game tonight."
Avery's ex-girlfriend, actress Elisha Cuthbert is dating Calgary defenseman Dion Phaneuf; she had been previously romantically linked to Mike Komisarek of the Montreal Canadiens. Avery also dated Rachel Hunter, the former Sports Illustrated swimsuit cover model who is now the girlfriend of Los Angeles Kings center Jarret Stoll. Is this really worth a suspension? He isn't getting into fights with bodyguards or taking a weapon into a nightclub. All Sean Avery did was joke about how Canada steals his "sloppy seconds". While I can see other team's fans wanting him gone, even within the Dallas community there is hatred towards Avery. Stars owner Tom Hicks has backed the commissioner's decision, and this morning Dallas Morning News ran an editorial demanding Avery to be
released from the team
. Was there a law passed that made making a "sloppy seconds" remark a crime?
If last night's 3-1 win against Calgary was your first time to catch a Stars game this season, then you may not be able to believe all of the Stars' struggles this year. Turco stopped a ridiculous 36 shots. In fact, Tuesday was just the third time this season that Marty Turco held the opposition to fewer than two goals. It is also the first time this season that Dallas has strung together two wins in a row. Could Sean Avery's suspension be the turning point to the Stars gaining focus and start to climb the standings? While things have gotten bad, the Stars are only 4 points behind the 7th and 8th seeded spots in the Western Conference. This season is anything but over. Sean Avery will return, Morrow will be available in the postseason, and Turco should return to his elite-stopping status. Dallas just needs to get their identity back quickly before this window of opportunity closes.
COMING LATER: With the nail-biting win from the Mavs last night against the Clips, Dallas now has a winning record and just 1.5 games back from first in their division. 3 short weeks ago people were panicking and losing faith, but DallasDedicated promised you good times ahead. We will get into this more later tonight.
This week: Part 2 of our "Holiday Hangover" will bring you everything Dallas Cowboys, who have a crazy month ahead of them. Stay tuned!
--ND