What is it about the Dallas Cowboys and Monday Night games of late? Along with last year's overtime thriller with Buffalo, this game was another instant classic. Dallas is single-handedly giving Mike Tirico, "Jaws", and Tony Kornhieser reasons to live. I'm not saying they're depressed people, but if they were, they can find happiness in these games. Who else was screaming in elation when T.O. caught the 72 yarder from Romo? (And who else thought--for a split second--that he might drop it?) Who else ran two or three laps around his (or her, women support this site, too!) living room when Felix Jones took back the kickoff for a TD? Interesting side note: You have to go back to the 2003 season for the last time a Cowboy returned a kickoff for a TD, and that was the infamous "tricky" onside, by none other than Philly. 2002 was the last time a legitimate kickoff was returned for a TD.
Those were the moments that made the average fan excited about this season's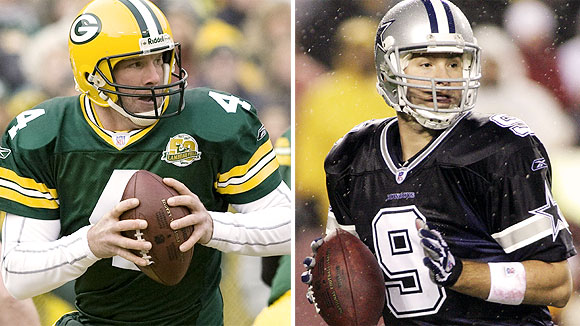 prospects. There were, however, some moments that made one's insides churn...and they all happened within a couple minutes. Tony Romo did a great job of evading the sack, but, in his Brett Favre-esque manner, threw an interception which set up a touchdown. On the ensuing kickoff, Isiah Stanback muffed the ball and was tackled at the 5. Directly after this, the ball apparently turned into a bar of soap and twice Romo lost it in the endzone, resulting in another Philly TD.
And this was all in the first half.
The frenetic pace slowed in half number two, but the emotional roller coaster did not. Plagued by numerous, numerous penalties, the 'Boys extended many Eagle drives. The offense, fortunately, was up to the task. The secondary looked very shaky at times, though this could have been due to Roy Williams' injury, which forced an inexperienced Patrick Watkins to fill in. (By the way, Williams has a fractured forearm, and will miss at least 3 weeks. Just as he was starting to regain his form...)
Jason Witten not only had a huge day--7 catches for 110 yards--but did it with a separated shoulder which he suffered in the first half. The NFL needs to honor him with some type of Warrior award. First the helmet-less, bloody face sprint last season, and now this. Give the guy some props, Goodell...or at least Berman.
Jerry Jones is on the road to looking like a genius if his two first round picks--Felix Jones and Mike Jenkins--keep playing the way they have in these first two games. Jones will undoubtedly be the talk of the town tomorrow. Every time he touches the ball there is that sense that he could soon be in the end zone wondering why everyone playing defense is so slow. Incidentally, Ron Jaworski is already on the "Felix bandwagon". During the game he mentioned that he always though Jones to be a better prospect than McFadden. Right. Him and Felix's mother. But at DallasDedicated, we are glad that Jones was looked over and McFadden was given the nod by the scouts.
So, the Cowboys wrap up win number 2 of 16 in a resourceful manner. Another classic game that is already the talk of the NFL. Wade Phillips should have the troops fine tuned for next week's matchup against the Green Bay Packers. It's been a long time since a Cowboy's game has provided so much excitement: from the scoreline, to the star players, to the impressive rookies and, of course, the new stadium. America's Team is assuredly back.
--PD