Here's a little bit of sports news circulating the DF-Dub:
--The Rangers continued the re-building process by shipping reliever Eddie Guardado to Minnesota for minor league pitcher Mark Hamburger. No, that is not a type-o, it's Hamburger, like the favorite American meal. This is a great move, though, regardless of his name and the ribbing from fans he will receive. At only 21 (compared to Guardado's 37, almost 38), he played this season in the Rookie league, where we was named Closer of the Year. Impressive. This ballplayer looks to have a lot of potential, let's hope the Rangers can cultivate it into something special.
After the deal, Texas called up left-hander Bill White from AAA.
--The Cowboys had to trim their roster down to 75 earlier this week (Oh no, how tragic). No notable players were cut.
--Third string QB Richard Bartel is getting the nod for the preseason finale this week. With Wade Phillips openly tinkering with the idea of keeping just two QB's, this is do or die for the Grapevine product.
--For a talented team, the 'Boys sure have a lot of injuries. Kyle Kosier is the latest starter to take a bow...a 4 to 6 week bow after it was reported he had a hairline fracture in his foot.
--Dallas Morning News penned a
great article about new parent DaMarcus Ware.
I hear nothing makes you happier than a child, and I would say that applies here. Curiously, the daughter's name is Marley. I'm sure it's after Damian or Stephen, though. Surely not after Bob.
--Jason Kidd continues to shock us all with his niceness and friendly behavior. Is this the same guy who was once accused of beating his wife? As if the stories about his huge tipping on US basketball restaurant trips and showing up alone to Misty May-Treanor's volleyball games because she was a huge fan of his growing up weren't enough,
Kidd fulfilled a "promise"
to Casino lady Elaine Wynn of giving her his Gold Medal to show appreciation for the way she treated him and his family last summer. The rest of us are nice to guests and get sticks of gum. Crooked world.
--DMN blogger Mike Heika believes
Dallas will be 4th in the West this season
, a few points short of division winner Anaheim.
--FC Dallas looks poised to make the playoffs, after the acquisition of striker Jeff Cunningham makes him and Kenny Cooper one of the most feared duos in the league.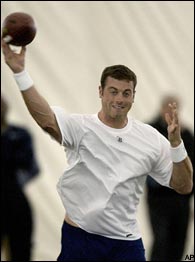 --Former Cowboys QB and Jerry Jones infatuation Drew Henson has resurfaced by signing with the Detroit Lions. He has been out of the NFL since leaving the Cowboys. Minnesota signed him last season and cut him after training camp. You know, though, third time's the charm. And the Lions must be desperate.
--PD